M&A + STRATEGIC TRANSFERS
There is no such thing as a "cookie cutter" approach to mergers & acquisitions. Each transaction has its own unique demands and complexities. After your deal is inked, we will help to flex an approach to meet your specific strengths and needs.
There are typically two types of mergers:
turn-key mergers and transformational mergers.
A streamlined method for the transfer of work is paramount for a successful merger or acquisition.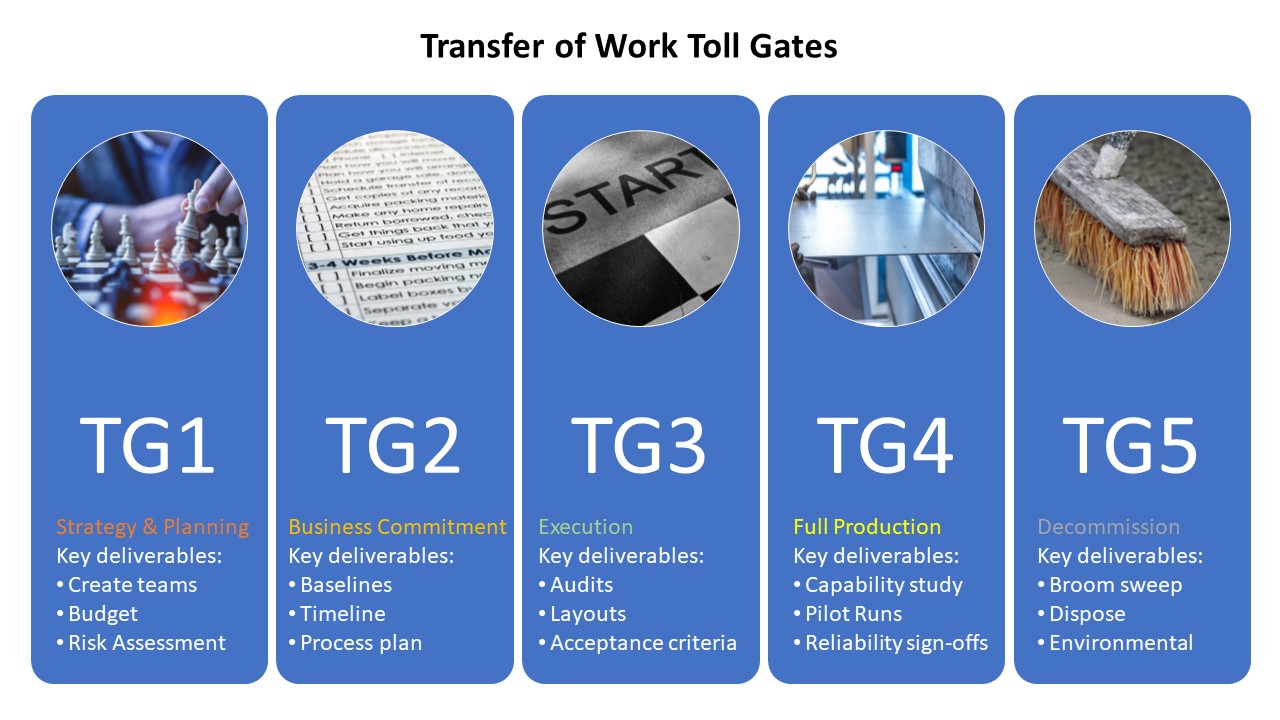 Mergers & acquisitions require a litany of due-diligence, financial, human resources, intellectual property, and operational issues. To successfully navigate post-close, we can help guide you through the dynamics and key issues.
Transfer of Work Video Series
This series covers the 5 different Toll Gates and how they apply to the Transfer of Work process.
Operational Transfer of Work Checklist – A checklist customized to the specific industry, function, work locations and environment must be developed to ensure both catcher and pitcher roles are clear and critical steps are not missed to minimize disruption to customers as the transition occurs.
Risk Assessment – A formalized risk assessment should be followed to ensure all players are able to identify risks to meeting the strategic objectives. Each function and major location should be required to have their own risk assessment and risk burn down should be program managed from a centralized group responsible for report out to the CEO.
Failure Modes & Effects Analysis – This, more detailed and specific tool, can be used for high risk processes, reporting, communication and personnel related issues identified in the risk assessment.  This tool is also used to identify process steps or inputs at greatest risk of failure during the transition.
Change Management – The change management approach must consider the unique cultures involved and be customized to fit, assuring all internal and external stakeholders process the improvements so that full optimization occurs.  This involves helping people understand the reasons for change and a defined, transparent approach to integrate all participants.
Get in contact with our M&A + Strategic Transfers experts.