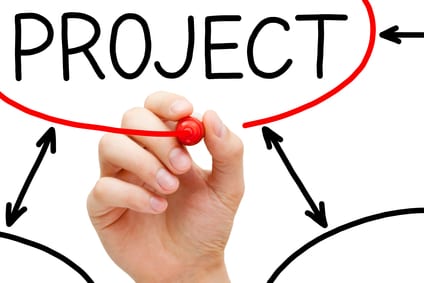 Six Sigma process improvement efforts are accomplished project by project. All successful projects require structure – a team, a leader and a sponsor/champion.  If projects are not defined up-front, teams have difficulty scoping the opportunity and attacking it.  Champions have difficulty supporting the effort.  In order to define a project – start with these questions:
Is this project central to the organization's goals and objectives?
Who is the customer or customer segment who will most directly benefit from the project's execution? Will the customer feel differently if the goals outlined in a project charter are achieved?  A customer can be an internal (to the organization) one - the external customer is not always the right one for your project.
Will the executives responsible for this project and the resources dedicated to its completion feel accountable for its success?
What is the project scope and can this project scope be executed in 4-6 months?
Will this project deliver quantifiable results?
If data that describes the problem is not readily available, will it be available to be gathered within the first 1-2 months of the project?
Is there an identified process owner who will take over the improvements implemented in the project and own the ongoing control plan documented during the control phase?
Are the appropriate team members/resources available to ensure this project is successful?
Unfortunately, the annals of history include thousands of projects that either failed, were stopped or never achieved their full potential.  Why is this the case?  There are several reasons that are sure to lead to project failure.  These include:
Lack of defined project scope or project scope is too great. Experienced Lean Six Sigma Master Black Belts or Black Belts can assist leaders in avoiding this by spending time defining a scope that can be executed in 4 months, given the current team's availability.

No results-orientation or ownership

for implementing solutions. Stakeholder objectives and involvement must be identified and documented using a project chartering effort which creates support and fleshes out potential barriers to success.

No pulsing mechanism is used to gather team on a weekly basis

. This is a project requirement and must be enforced by the project leader and encouraged by the project champions and sponsors.

No pulsing mechanism is used by the champions/sponsors to find out project status

: Lack of leadership involvement in updates can result in projects which crawl towards the finish line, many of which fall short of reaching it.

Risk assessment not used

to identify risk factors to be managed. A proper risk assessment should be conducted in both the project chartering and the improve phase to ensure team has thought through most likely and impactful risks and has an abatement plan to address these.
Early project findings (typically discovered in measure phase) identify

issues that the leadership team is unprepared to address.

 Sometimes projects identify

uncomplimentary

 customer perspectives.  This situation can necessitate a response that the organization is unwilling to support.  The lean six sigma team should not be penalized for this situation but rather encouraged through effective leadership which gives political support to the project effort or selects another opportunity for the team to address.

Organizational priorities change

and sufficient time cannot be allocated to the project effort. The organization must be honest about its priorities and if these no longer include the Lean Six Sigma project, the team should be released or reassigned.

Project leaders views themselves as facilitators who are not responsible for implementation.

This responsibility should be set during the project chartering phase when the champion and the project leader/team discuss the role of the team.  There are project efforts which do not require implementation, but these are rare and are likely focused on providing the data to support future projects.  More likely, the team will be responsible for all phases of the project and transition ownership to the process owner during the control phase.

Team has hidden agendas which are not discovered or addressed during project evolution

. Every project team will go through the forming, storming, norming, and performing phases of team work (See Bruce Tuckman's 1965 Model re: stages of group development).  During the forming and storming phases, these issues should be raised, conflict addressed, and norms determined so that the team can be most effective moving forward.  Practiced teaming skills are a significant requirement of Lean Six Sigma projects and facilitating teams is one of the most critical skillsets of a project leader.

Team not given enough time to be successful

. The longer a team works together, the more successful they can be. High-energy, achieving teams have learned the value of conflict resolution, team norms and project team charters.  They effectively use ground rules to encourage honest dialogue and supportive team behavior.  The more quickly a newly-formed team can move through the stages of team evolution, the more swiftly they will be capable of driving project results.
Teams that utilize the following success factors have a much higher likelihood of success:
Defined data-driven methodology used to approach problem
Clear project structure with project leader, project team and involved project sponsor
Right-size, no more than 8 people
Extended expertise pulled in only as required, not permanent part of core team
Able to have honest discussion
Feel ownership for results
Results oriented, experienced barrier-buster
Analytically minded with working knowledge of Lean Six Sigma tools, techniques and methodology
Has change-management expertise and proven track record at influencing others
Good Communicator, both orally and using written communication
Effective presenter
Sponsor/Champion has confidence in and supports the project leader
Within team – weekly meetings preferred format, with monthly face-to-face meetings
To Sponsor – biweekly update
To Executive Team interested in results – Monthly update with more frequent written project update(s) sent via email 
Project leader who is well versed and experienced in lean tools and techniques and is able to apply these to affect both short and long-term opportunities
Effective Kaizen leader with expertise in preparing teams to conduct Kaizen events/workshops
Teacher who works with teams of people to learn and apply lean tools that identify value and waste and work to eliminate anything that prohibits process flow
Lean Sensei's can also be Green and Black Belts
Typically owns the area in which the project resides
Is not a full-time project leader, but rather leads a project within their area of expertise
Applies 20-40% of time to the project (depending upon the project) execution
Selects a project that is narrow enough in scope to be done within the time they are available to devote to project
Trained in Six Sigma Tools, Techniques and Project Methodology. Training format often involves a session comprising of 2-3 days of training followed by applied project work.  Generally 2-4 sessions are required to complete Green Belt Training for a total of 8-10 days.
Leads a project team focused on a particular area of opportunity
Works closely with a project sponsor to ensure team is effective
Leads Project, Reports out to Leadership team and is an effective change agent
Is not required to be an expert in the project area
Applies 80-100% of time to a project or multiple projects.
Selects or is assigned to a project or multiple projects and executes them simultaneously
Depending upon project scope, Black Belts can complete a project in 4-6 mths
Trained in Six Sigma Tools, Techniques and Project Methodology. Training format often involves a session comprising of 4-5 days of training followed by applied project work.  Generally 3-4 sessions are required to complete Black Belt Training for a total of 16-20 days.  Tools and change management/leadership techniques that are advanced beyond those taught in Green Belt Training are core content in Black Belt Training. 
Works closely with a Six Sigma Champion and/or a Master Black Belt to execute projects and report out to leadership team
Can be called on to assist customers/suppliers on key organizational initiatives
Helps set strategic direction by:
working with leadership team to select appropriate projects
training and mentoring Black/Green Belts and
developing pulsing mechanisms to monitor progress
Leads Large Mega-Projects, reports out to Leadership team and is an effective change agent
Coaches Black and Green Belts
Trains others in Six Sigma Tools, Techniques & Methodology
100% dedicated to advancing results from Lean Six Sigma Projects within the Organization
Can be called on to assist customers/suppliers on key corporate initiatives
Trained in Six Sigma Tools, Techniques and Project Methodology. Training format often involves completing advanced, subject-specific sessions after successfully completing Black Belt Training. 
Leader – sets vision and relentlessly pursues results to achieve this
Effective team facilitator – knows how to lead teams to achieve the highest potential outcome
Analytical – enjoys analyzing data and searching for root causes to problems
Action Oriented – will not let barriers slow them down
Creative – always searching for new ways to do things
Change Oriented – Has experience driving new procedures/processes/ideas
Influential – Can influence others or figure out and implement influence strategies in order to accomplish change
Excellent Communicator – Verbal and Written
Proactive – Does not wait for a problem to surface, rather thinks through consequences ahead of time
Organized – Effective at organizing their time and prioritizing action required
Critical Skillset prior to training
Strong math/problem solving educational background
Comfortable creating and making presentations
Comfortable with Excel and Powerpoint Software
Owns the area in which the project resides
Accountable for project results and ongoing continuous improvement after the initial project is complete
Typically, responsible for many of the team members on the project team
Holds frequent (biweekly at a minimum) pulsing sessions with project leaders and teams
Assists teams to remove barriers
Encourages Team
Criterion of a Great Sponsor
Sees Six Sigma as an opportunity to improve his/her area of responsibility
Advocate for Change
Becomes and stays involved
Listens actively
Visibly holds self, along with team, accountable to deliver results
Exhibits outstanding communication skills – written and verbal
Roles, Responsibilities and Criterion of Project Sponsors
Owns the area in which the project resides
Accountable for project results and ongoing continuous improvement after the initial project is complete
Typically, responsible for many of the team members on the project team
Holds frequent (biweekly at a minimum) pulsing sessions with project leaders and teams
Assists teams to remove barriers
Encourages Team
Criterion of a Great Sponsor
Sees Six Sigma as an opportunity to improve his/her area of responsibility
Advocate for Change
Becomes and stays involved
Listens actively
Visibly holds self, along with team, accountable to deliver results
Exhibits outstanding communication skills – written and verbal
"Points the laser beam of focus" - Selects and sponsors 'doable', significant projects
Provides infrastructure, support and resources as required to complete the project
Holds regular pulsing sessions with project leaders and teams
Assists teams to remove barriers
When raised up to the Champion
When not raised up – but obviously impeding progress
Uses performance goals to ensure business leaders are on board
Reports to and updates executives and strategic stakeholders on progress
Criteria of a Great Champion
Sets the vision for the use of Lean Six Sigma to enable organizational priorities
Takes a laser-beam approach to apply resources strategically
Becomes and stays involved
Listens actively
Visibly holds project leaders accountable to deliver results
Exhibits outstanding communication skills – written and verbal
Takes ownership of project success with peers and executives