Lean thinking is a relatively quick way to engage everyone in reducing waste to drive profitable growth and can catapult competitors to the head of the pack from an efficiency perspective.  Implementing Lean is worth the investment for companies who are willing to invest in people and a culture which enables employees to drive positive change.
Our experienced Lean experts can help you to:
Assess your current state 

Develop a strategic plan to implement lean in your organization

Train and coach leaders and teams to use lean to improve daily processes and 

Develop metrics which drive daily, monthly and annual planning
Lean thinking was developed in the early 19th century by people like Eli Whitney who invented the use of interchangeable parts as a requirement to quickly deliver 10,000 working muskets to the newly formed US government.  Development continued throughout the industrial age and into the early 20th century as newly formed small businesses such as Ford Motor Company used standardization techniques to create and grow large-scale production processes.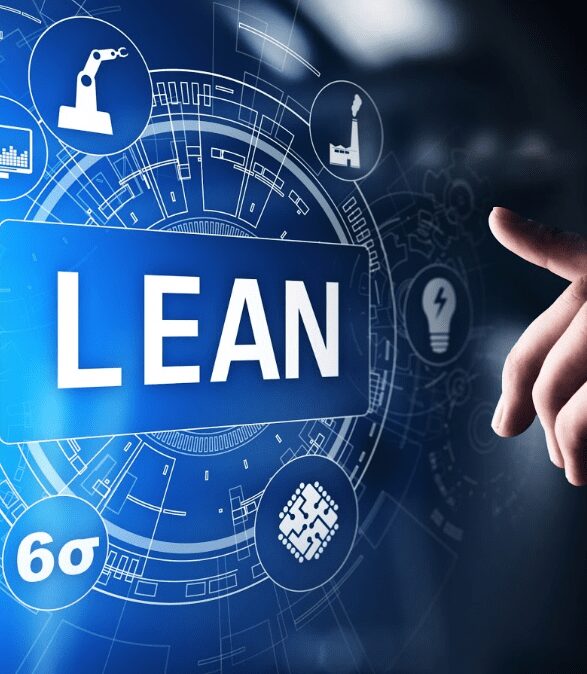 The Allied victory in WW II was due in large part to the efficient flow of supplies and materials.  This success caught the attention of Japanese industrialists. It was then adopted and honed to positively affect the automotive industry by Toyota in the later part of the 20th century. Taiichi Ohno and Shigeo Shingo of Toyota began to utilize lean techniques to transform production processes. The use of these techniques is given significant credit in Toyota's domination of the automotive industry.  Within Toyota and its supply base, the lean thinking approach and toolset is known as "The Toyota Production System" or TPS.   It extends beyond the factory floor to service and transactional operations where it is known as "The Toyota Way", thus affecting the lean enterprise.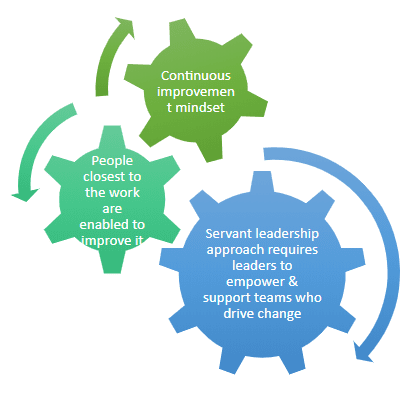 Lean transformation , no matter where it is applied, requires culture change, prioritizing respect for people and continuous improvement. 
Respect for people: Individuals must be given authority to solve their own problems.  The lean leader works with employees to identify problems and devise a problem-solving technique, respecting the decisions made as a result.  When employees are given authority to solve their issues, motivation to work increases which directly impacts the service and/or product they provide to the customer. 
Continuous Improvement:  Incremental changes are made to solve problems and reduce waste. Each problem is taken as a challenge and each solution is devised through a learning process which drives continued progress.  Incremental improvements are then turned into big improvements over time, thus the process goes on and on to create value for customers.
The lean approach, tools and techniques leverage the knowledge and empower the team who is closest to the work to improve the process. They focus the team on maximizing process velocity, defined as how much output a process can generate in each period of time.  Process velocity is increased by eliminating waste in order to deliver the same products or services at a lower cost, and in a shorter period.  There are eight categories of waste, described using the DOWNTIME acronym:
Value Stream Map – Looking at your processes from a birds' eye, high level view allows you to identify the flow of value from suppliers, through your process and to your customers.  Taking a critical eye to this flow of value enables you to identify the most significant waste and prioritize improvement efforts.  This view is built collaboratively by the team to create a common understanding and prioritize. Cycle time, defects, number of resources required, cost and customer impacting results are documented for each high-level step.  Additionally you could measure physical space utilized, process uptime, number of steps required and the rate of the operation. 
MUDA = WASTE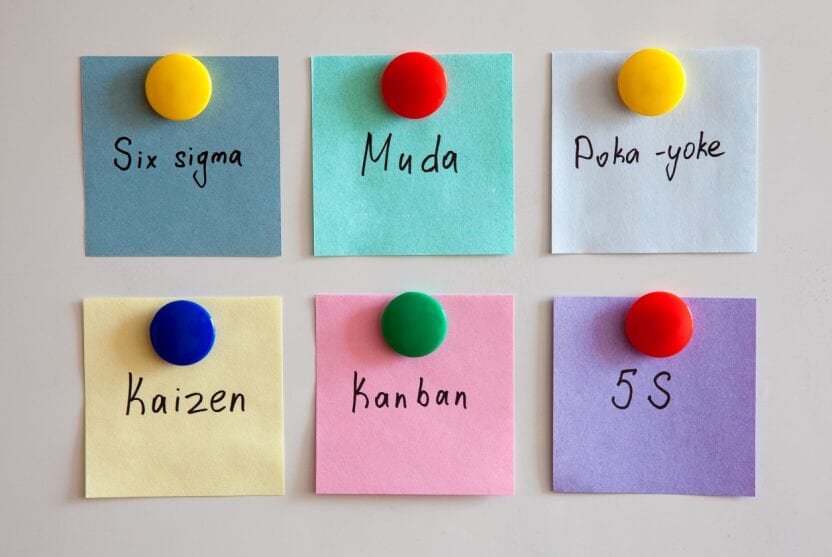 Poka - Yoke - Mistake proof devices or methods are used to ensure it is impossible to make a mistake.  Developing them requires an understanding of how defects are made and then implementing a solution that prevents this from occurring.  If difficult to complete prevent a mistake from occurring, at a minimum, Poka Yoke devices should ensure the mistake is detected and addressed.
KANBAN - System which is used to provide exactly the right amount of product to an operation at the right time.  It involves knowing your usage within a certain period of time - and then providing storage containers that store the exact and standard quantity of product to be available as needed.  When one storage container is used, another replaces it and a signal is sent to the source to bring the next container.  In this way the system ensures the exact right quantity of supplies with out over or under providing resources.
Lean Daily Management (LDM) – Front line leaders use simple daily metrics to plan for the day and execute to the plan.  At the end of the day the team revisits the metrics to see how well they did and identify barriers they need to address as a team or with the leadership team's assist.    The leadership team evaluates operational effectiveness using the LDM metrics at every operation.
Plan Do Check Act – in order for teams to effectively attack the opportunity, they must be taught a methodology to improve.  Depending upon complexity, teams can use a cycle of Plan, do, check, act, (PDCA) or the DMAIC (Lean Six Sigma) project-based approach.  PDCA is often used by lean teams as a simple yet effective way to teach all team members how to consistently drive improvement and check for results.
Kaizen Events – Focused efforts, either by individuals or teams, to implement change for the better through review of current state, development of an improvement and on-the-spot implementation of the change..
SMED – Single minute exchange of dies (SMED) describes a method which originated in Toyota's manufacturing processes where the team struggled with changing over from one die part to the next. It was taking anywhere between 2 and 8 hrs to complete a changeover.  Toyota and Mr Taiichi Ohno specifically worked to reduce this changeover time to be in the range of single digit minutes. This approach involves looking at a changeover process, whether it involves equipment, a project, a shift or a digital changeover, to eliminate steps that require the process to stop or slow it down.  
5S – Method to organize workspaces to eliminate clutter and waste while ensuring employees have easy to access visual instructions and tools required as close to their work as possible.  5S stands for: Sort, Set Aside, Squeaky Clean, Standardize and Sustain, setting up a circular loop to improve.  A sixth S of "SAFETY" is often added to term shits "5S+1" or "6S".
Standard Work – a structured method to document required process steps and ensure everyone is following the same instructions.  Standard work templates include steps, appropriate cycle times, tools required, safety standards, inspection points and workplace environment set up.  They should be visible, visually appealing, close to the work performed and updated when process steps change.
Takt Time – a method used to develop the required pace of an operation.  Whether processing applications, producing product or seeing patients … all processes have a regular rhythm determined by customer demand and availability of resources.   Once the required pace is determined, staffing plans can be developed to ensure customer demand is met at the customer's required rate and at a resource commitment set by the provider.  Comparing the takt time/rate to the current cycle time at each step enables improvement.
Visual Management – Ensuring that workplace environments are easily involved merely by seeing it.  Good visual management systems enable all to obtain as much information about the operation as possible without having to ask participants.  It enables more effective training and onboarding as well as identification of current performance and barriers to optimizing this.
Pull Systems – An overall system approach to start new work only when there is a customer demand (signal) for it.  Pacing your system based upon a customer's request instead of your desired or forecasted rate enables you to synch closely with actual demand, saving you the cost of producing more or less than what is required.
Total Productive Maintenance (TPM) is a defined system to maintain and continuously improve the performance of equipment required as part of any operational process.  Leadership teams must commit to establishing requirements, providing capability and resources for system support and hold teams accountable to meet the system requirements. The benefits of this approach include: less waste due to employees waiting, increased overall equipment effectiveness and improved reliability to meet customer demand.
Overall Equipment Efficiency (OEE) An equation that indicates how efficiently a machine-based operation is running.  It uses a formula which is the product of: 
PERFORMANCE -

current rate vs designed rate, 

QUALITY  -

Defect rate (yield) and

AVAILABILITY

- Amount of time equipment is 'up' out of total time available to run
Opportunity: A lengthy procurement process was negatively affecting both budgeting and compliance requirements for billions of dollars in services procured by a city government's Department of Health (DOH).  Customers within the DOH complained about the long time to receive services.  Additionally, the out of compliance cycle time negatively affected federal grant money available.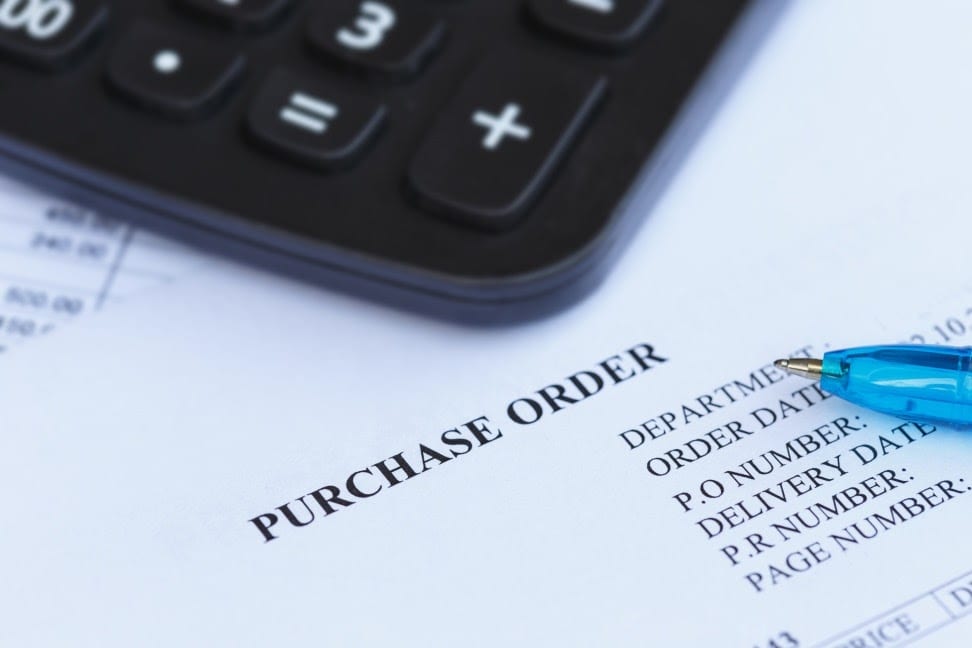 Used lean cycle time analysis tools to discover PO process was starting unofficially weeks before the clock started, making

the procurement

metric system look 'good', when the customers felt

the longer cycle

time.  Team immediately

adjusted the clock

to start as soon as a procurement specialist

was assigned.  

Improved Scope of Work writing and education to ensure Procurement Specialist started with specific direction

Reviewed all items being procured and put standard items in the digital

c

atalog to take Procurement Specialists out of the loop

Established measurement KPI's focused on cycle time, set up dashboard and review process for Chief Procurement Officer

 
Results: Reduced time to complete <$1M purchase orders (PO) from >165 to <100 days within 4 months, a forty percent reduction.